/
Second Trimester Essentials and Recap
Hello, third trimester! Goodbye, feet (at least that's what I hear will happen soon)! I shared about my experience with the first half of my pregnancy, so definitely check it out here if you haven't already! For this post, I'll be talking about some common pregnancy symptoms I have experienced as well as sharing information about a couple second trimester essentials.
So onto the good stuff! Here are three symptoms that I have experienced most since my last update!
Most Common Second Trimester Symptoms
Braxton Hicks
I've been experiencing these more and more! They are pretty uncomfortable and weird, but they don't hurt. They are essentially contractions that get your body ready for delivery day, but they don't lead to labor. I feel them most when I'm at work because I am constantly hot and on my feet. Being overactive and dehydration can definitely exacerbate this symptom, so it all makes sense why that would be the case. As long as they don't start hurting or happening too much within an hour, I should be good! It's definitely a reminder to take it easy.
Frequent Bathroom Trips
Y'all, let me tell ya. There have been times where I would use the bathroom and literally have to go again in five minutes. I think to myself… why couldn't it have all just come out at once!! I feel like my bladder is now the size os a pea because my child is taking up lots of space. LOL, but I wouldn't have it any other way. I love him!
The Huff & Puff
If you hear heavy breathing, it's probably me. No, I didn't just run a mile. I simply walked up the stairs; or better yet, I'm just lying down trying to go to sleep. It be like that sometimes. Shortness of breath is my new normal for now! I'm not necessarily loving it, but I am embracing the fact that my baby is growing as he should be! It's okay that he is crowding my lungs. 😉
Of course, I share these not to complain, but simply to share what has been going on in this journey. I'm so excited for what is to come and I'm thankful for every symptom that reminds me of this sweet blessing! I looks forward to looking back on these types of things during future pregnancies if I'm blessed with that to see if there are any differences. It'll be a fun comparison! Anyway, now onto some of maternity products that made life much sweeter!
Second Trimester Essentials
Belly Band
These were life savers for me, mostly for my work uniform. I started getting to the point where my work pants were just a bit too tight to keep buttoning. So, sometimes I would just wear it unbuttoned but zipped up and hope for the best! One of my coworkers mentioned a belly band and that same day after work, I bought one at Target! LET ME TELL YOU – GAME. CHANGER. I could where my pants unbuttoned with the bellyband over it OR I could wear it with my maternity pants that wouldn't stay up. I had so many options!
Maternity Clothes (but really just maternity dresses, let's be real)
The thing that I have found to be the most comfortable are maternity dresses! They are literally a gift from above. They are breathable, comfortable, and my belly has all the room it needs to grow (and I don't have to worry about fitting these thighs into anything). Plus, you can just throw them on and go!
I'm sure you're probably wondering where I got this gorgeous dress above, huh? If not… awkward. If so, it's from the one and only, PinkBlush Maternity! Make sure you check out all of their cute maternity maxi dresses! They were so kind to gift me with this beautiful, mocha rose, floral maternity dress. As soon as I opened the package, I knew it was great quality. It was soft, comfortable, and flowy – my kind of dress, y'all! It made me feel elegant and even my husband loved it! The only thing that was sort of a con for me was that the dress was pretty long for my height, so without heels, it would drag on the floor. That's definitely not a deal breaker for me (because I can get it altered if I really wanted to)! I also love the fact that I can even wear this dress AFTER pregnancy as well. Yaaaasss! I'll include the link below to this exact dress in case you want to check it out, too!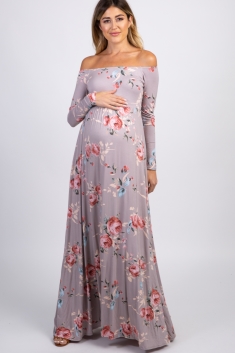 Mocha Rose Off Shoulder Maternity Maxi Dress
Price: $66.00
So, as I embark on the last third of this pregnancy, I am making the most of every moment, every punch/kick from baby (still can't differentiate them just yet), and every symptom. Getting the opportunity to have this life created within me is one of the most humbling things I've ever done. It really is a process of dying to myself and doing what is best for my baby, even if that means taking it easy sometimes. I know these next three months are going to fly by, and I really want to remember these quiet moments before hearing that first sweet cry. Oh, my heart!